Associated with the Féile Na Bealtaine 2013 Arts Festival

Following our successful participation last year, Umha Aois will once again take part in Féile na Bealtaine 2013. Umha Aois is a multidisciplinary group of artists, craftspersons, engineers and archaeologists with an interest in the historical metalworking traditions of Ireland. Last year's event was a great success, with public casting demonstrations, a week-long art exhibition in An Lab and several visits from local primary schools. The event also received extensive coverage on RTE's Nationwide, ensuring high profile publicity for both the group and Féile na Bealtaine.

While last year's event focused on the bronze casting traditions of prehistoric Ireland, this year will include tinsmithing, blacksmithing and copper working. To that end, we have enlisted the participation of traditional travelling tinsmith Tom McDonnell. Tom is one of the remaining few traveller tinsmiths in Ireland, and represents the last in a long line of craftsmen who employed their skills throughout the country, making and mending tin containers. Tom's role will be both tutor and demonstrator, and will be making traditional Irish tin vessels in view of the public. The event will also involve blacksmith Mary Jane Verniere, a craftswoman of many years' experience in the shaping and forming of iron and steel. Traditional blacksmithing skills will be demonstrated as part of the event, in full view of the public. As the group also includes workers in precious metals, the event will also include some demonstrations in silverworking and jewellery making.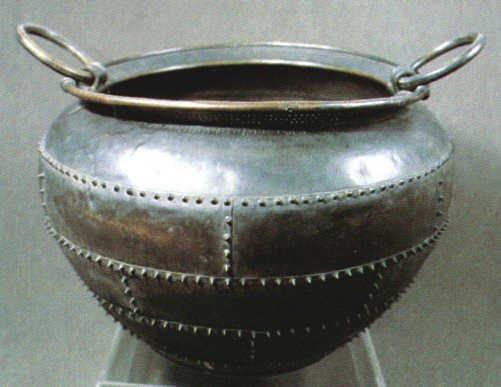 As well as these new additions to the Umha Aois programme, we have decided to focus on a central project for the core members. Since the theme of this year' festival is 'The Gathering', we will undertake to create a cauldron of bronze and copper, based on prehistoric designs. These great vessels were once part of the feasting and festival culture of ancient Ireland, and were undoubtedly employed in great gatherings and social occasions. The notion of the Cauldron of Plenty features in ancient Irish mythology, and was one of the four great treasures of the Tuatha Dé Danann. Umha Aois will work as a group to create such a cauldron, and, upon its completion, prepare a great meal over an open fire towards the end of the festival. This will include local ingredients that would have been available in the prehistoric past, and will be our best attempt at a bronze age stew. The sheet metal for the cauldron will be made using hammers that were cast as part of last year's Féile na Bealtaine.
Other elements of the event will include an art and crafts exhibition in An Lab, and guided tours, as Gaeilge, with local schools. All metalworking and demonstrations will take place in full view of the public, who are invited to observe, interact and ask questions. Work will take place in the week leading up to the festival, and will culminate over the festival weekend. Umha Aois has a cyclical membership, meaning that there will be several new participants this year, bringing new skills and perspectives. It is also envisioned that a local artist would participate in the event, and learn and share skills with the group.
*****************
Oscailt Oifigiúíl: De hAoine 3 Bealtaine ag a 4
Is grúpa ealaíontóirí ildisciplíneach é Umha Aois idir chéardaithe, innealtóirí agus seandálaithe le suim acu i dtraidisiún stairiúíl ar obair mhiotail na hÉireann.
Oscailt Oifigiúil, Dé hAoine, 4 Bealtaine.

I mbliana cuirfear taispeántais ar bun agus na céardaithe ag obair le miotail nó cífear gabha dhubh agus daoine ag plé le stáin, agus é go léir don phobal.

Beidh an céardaí a oibríonn le stán Tom O' Donnell rannpháirteach i mbliana, fear a bhíonn ag taisteal ó áit go háit ag roinnt a chuid scileanna.Fear ón lucht siúil isea Tom O' Donnell agus níl mórán daoine mar é fágtha sa tír, daoine le scil ársa a sheasann do na céardaithe a chaith a saol ar fad ag deisiú agus ag creathú gabhdáin.

Roinnfidh an gabha dubh Mary Jane Vernier céardaí le taithí na mbliana aici, pé eolas atá aici agus í, i mbun obair le cruach agus iarannn, é á chreathú agus á mhúnlú.

Beidh léiriú scileanna traidisiúnta mar chuid den ócáid os comhair an phobail. De bharr go bhfuil daoine atá sáite in obair le miotal lómhar, cuirfear taispeántas ar bun agus iad i mbun seodra agus obair airgid á dhéanamh acu.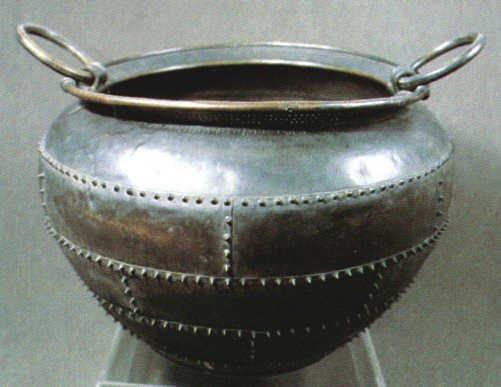 I mbliana agus an 'tionól' á chéiliúradh timpeall na tire, deir siad 'táimíd chun caildéara nó coire cré uamha nó copar bunaithe ar dhearadh réamhstairiúíl a chreathú!'
Ba chuid mhór iad na soithigh seo i gcultúr na hÉireann fadó le linn féiltí agus féastaí agus níl dabht ar bith ann gur úsáideadh iad le linn tionóíl mhóra nó le haghaidh ócáidí móra ag roinnt bídh agus ag caint lena chéile.
Mar ghrúpa cuirfidh gach ball na scileanna atá acu le chéile chun caildéara nó coire a chreathú. Nuair a chuirfear an obair seo i gcrích ullmhóidh said bia thar tine mhór ag deireadh na féile. Sin fíor céiliúradh na Bealtaine! Cuirfear comhábhair áitiúla a bhíodh ann fadó fadó sa bhéile, stobach na cré umhaoise a bheidh ann!

Beidh taispeántas ealaíona agus céardaíocht sa Lab, le turasanna treoraithe as Gaeilge le scoileanna áitiúla.
Fáilte roimh cách ceisteanna a churn ó bheith rannpháirteach sa spraoi!

Cuirfear obair ar bun an tseachtain sula dtosnaíonn an fhéile agus cuirfear é i gcrích le linn deireadh seachtaine na féile. Is ballraíochd timthriallach atá in Umha Aois mar sin tá baill nua i mbliana ag roinnt na scileanna agus a gcuid peirspeictíochtaí éagsúla